The global biogas plant market size is projected to reach USD 7.71 billion by 2027, exhibiting a CAGR of 14.7% during the forecast period. Increasing adoption of bioenergy sources will be a major growth determinant for this market, observes Fortune Business Insights™ in its report, titled "Biogas Plant Market Size, Share & COVID-19 Impact Analysis By Feedstock (Bio-municipal Waste, Agriculture Residue, Energy Crops, and Others), By Digester Type (Wet Anaerobic Digester and Dry Anaerobic Digester), By Application (Power Generation, Heat Generation, Transportation, and Others), and Regional Forecast, 2020-2027". Mounting concerns over escalating emission levels around the world have intensified global efforts towards transitioning to clean energy sources.
Biogas, which forms a part of bioenergy, is being seen as an important instrument in aiding this transition. According to the International Energy Agency (IEA), 67% of the global electricity demand will be met by renewables by 2040, with solar and wind accounting for roughly 40% and bioenergy and hydro contributing around 25%. The IEA's Stated Policies Scenario predicts that the share of bioenergy will increase from the current 5% to 12% by 2040, while its Sustainable Development Scenario envisages the share to rise to 20% by 2040. Biogas plants will form the crux of bioenergy adoption in the next few decades, which will bode well for this market.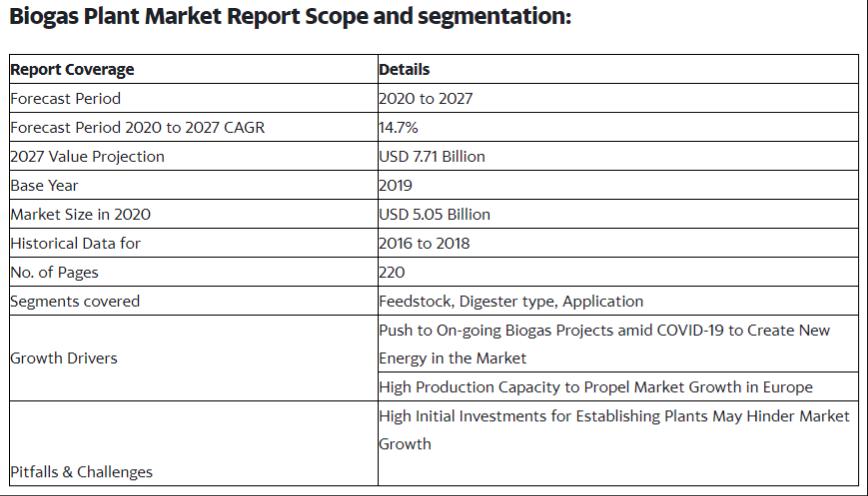 Push to On-going Biogas Projects amid COVID-19 to Create New Energy in the Market
The biogas plant market growth is likely to benefit from the regional and international support being given to complete biogas projects that are already underway in different parts of the world. For example, in South Africa, a waste-to-energy project funded by the Global Environment Facility (GEF) and the UN Industrial Development Organization (UNIDO) to improve awareness about the benefits of biogas was stalled because of the COVID-19 pandemic outbreak.
However, project heads have ensured the installation of digesters at the site, even though monitoring is being done remotely. In Senegal, value-added tax on renewable energy has been removed, which includes biogas equipment. Furthermore, governments are also actively expanding biogas capacity in their countries. For example, in December 2020, India's Ministry of Petroleum and Natural Gas signed a deal with JBM Renewables to build 500 compressed biogas projects in the country. However, supply chain disruptions and reduced investments due to the coronavirus have hampered the growth of this Biogas Plant Market in 2020.